Pet Loss Products
We offer a large variety of memorials for your pet. From classic to eclectic styles we guarantee that you will find a memorial reflecting your one of a kind relationship, the relationship that can only be shared with a pet.
Your Pet's Memory Can Live On
You and your family undoubtedly cherish your pet as a family member, so it makes sense that you want a special final resting place for your friend. With a beautiful variety of materials and sizes, one is able to express a lasting message of love and admiration for their beloved pet with our selection of urns.
*This is a sampling of urns we can supply or visit our Pet Loss Products page for a more complete selection*
Small Heart Print Sculptured Stone Pet Cremation Urn

Our Small Heart Print Sculpted Stone Pet Cremation Urn is hand-sculpted and hand-painted by artists interpreting natural elements. This engravable pet urn opens at the top and features hearts and paw prints.
Material: Textured Stone
Dimensions: 5 in. width x 3.5 in. depth x 6.25 in. height
Capacity: 40 cubic inches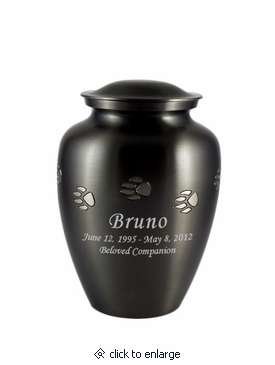 The solid brass Paw Print Cremation Urn is hand-forged and carved by old-world artisans. The hand-carved paw prints trail around the perimeter of the urn. The Paw Prints Urn can be engraved with up to 3 lines of text (40 character per line including spaces) and an optional poem can be engraved on the back of the urn. The threaded screw-on top allows for easy placement of your beloved pet's ashes. This solid brass metal vase style is available in a Small, Medium, Large and X-Large.

Material: hand-forged solid brass with carved paw prints
Dimensions: 7" T x 5" D
Capacity: 65 cubic inches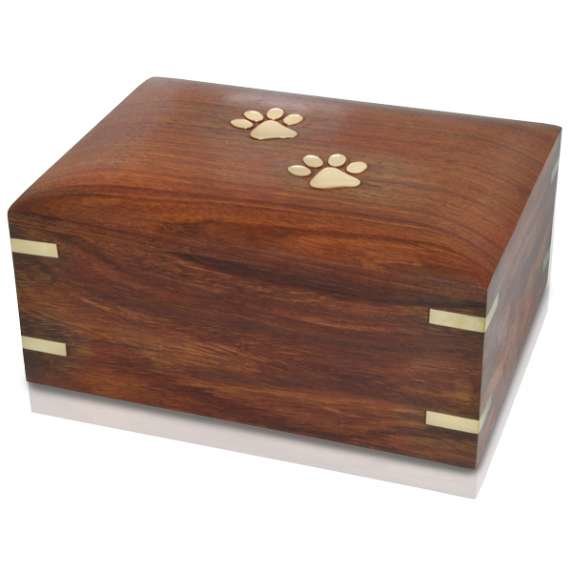 Forever Paw Prints Wooden Box Pet Urn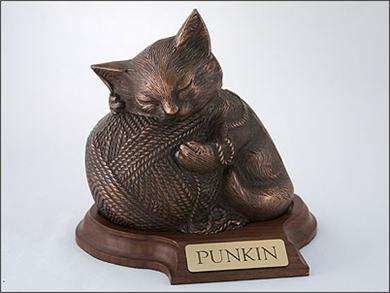 Precious Kitty Urn Copper

This Artistic quality Kitty Urn is cast of solid aluminum and hand finished with copper patina. The urn is bottom loaded with and comes with a custom designed maple display base.

Dimensions: 6 x 4 x 6 inches.

Capacity:40 cubic inches.